Congratulations to Mistress Molly owners
Thanks to the patient training effort from Cindy Alderson, Mistress Molly saluted for the second time in her career last Friday at Pakenham. A well timed ride by Craig Newitt, Molly's record now stands at 12 runs for two wins and six further placings.
Congratulations everyone!.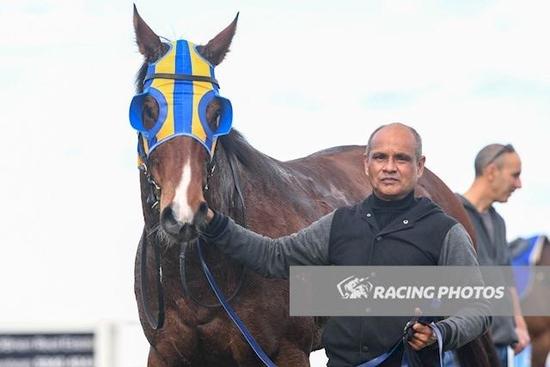 Chestnut Filly by versatile Stallion STAR WITNESS
A Champion 2YO AND 3YO Colt of his generation, STAR WITNESS won his first three starts as a 2YO including the G1 Blue Diamond. Victorious in the G1 Coolmore S. as a 3YO, STAR WITNESS was retired to the famed Widden Stud as a 3YO with a record of 4 wins and
a further five placings at Stakes level.

STAR WITNESS has proven himself a versatile sire with winners from 1100m to 2400m. The sire of star race mare GLOBAL GLAMOUR (ATC Flight S. [G1]; MRC 1000 Guineas [G1]) as well as Group winners GRAFF (ATC San Domenico S. [G3]), FUHRYK and CROWN WITNESS, he is now also the sire of Freshman sire STAR TURN (MRC Schillaci S.[G2]; S Domenico [G3]).

GABRIELLA, the unraced dam of this filly is a half sister to multiple Group 1 winning CAPE OF GOOD HOPE as well as Group 3 winner NEPHRITE. GABRIELLA has a perfect record at stud with 7 winners from as many to race including dual South African G3 winner TABLE BAY who won 3 races as a juvenile.
Possessing an all-important relaxed nature, this filly looks strong through the hindquarter and has a lovely, loose walk. She boasts a good, running pedigree with a lot of 2YO form. She certainly looks a racehorse and may go early. One of our top picks at the sale, this stunning Chestnut filly ticks all the boxes for us.

To be trained by CINDY ALDERSON
at Cranbourne
2.5% shares $2479 inclusive to 31st May 2020
(includes breaking and agistment to 31s May, Inglis Bonus Series nomination as well as insurance for 12 months).


Mr Trump heads home for retirement
Unfortunately a few weeks ago our own Mr Trump broke down in a race and was severely injured so much so that he will never race again. The future for the grey boy was not looking good.
However, we congratulate Mitch Beer and his wonderful team along with Trumpy's original New Zealand owner who have made an arrangement for his future. As a result of good management Trumpy will be nursed back to a future that will see him re homed to the pastures of New Zealand.



Beer sends Hanger on a Vic road trip



Living on the NSW side of the Murray River has curtailed the racing opportunities in Victoria for Albury trainer Mitch Beer.




Beer cannot cross the border himself and must get help from one of his Victorian counterparts.




He will rely on Caulfield-based trainer Brendan McCarthy when he sends Hanger to race at the track on Saturday in the Group 3 Victoria Handicap (1400m).




"If they have to go, they've really got to warrant going, but Hanger is set to go on Saturday," Beer said.




"It's not like we can throw them on the float Saturday morning and roll the dice. We have to do a bit of planning.




"Fortunately being so close to the Hume Highway we have all the transport companies pretty much come through every night.




"So we can put him on one and he can go down to a trainer at Caulfield on Thursday, race on Saturday and then come home."




Beer said he was learning more each week about Hanger who has had only three starts for the stable since coming from New Zealand, including a win in the Echuca Cup (1400m) two starts ago.




"He's a pretty talented horse I think and I want to take advantage of what he's rated while we can," Beer said.




"It wasn't the biggest field in the Echuca Cup but he put them away quite well and then last time he went to Rosehill and performed well.




"He's working towards something nice and getting in on the minimum on Saturday will be ideal."




Beer said if Hanger draws badly and the race is too tough, he had a back-up plan.




He said Hanger could join other members of his team for a 5-1/2 hour trip to Moruya for the Cup on Sunday.




"It's what we have to do at the moment, but it's better than staring at 40 empty boxes," Beer said.




Hanger won four races in New Zealand for Kingsclere Stables and was stakes placed on three occasions before transferring to Beer.




(courtesy Racing.com)



River of Gold makes it 2 wins in 3 days for the Clanbrooke - Mitch Beer team!

Congratulations to all the patient owners of River Of Gold who won her third race today at Wagga from just 13 starts. We bought this mare at the Melbourne Premier Sale and are thrilled to be racing this horse with the Breeder Lauriston Park (hence she races in their colours). She is very nicely bred, being out of Gold Copy, but she has taken a little time to reach her potential.
Have a look at the Video below to witness a copybook ride from Kayla Nisbet ( who rode her to a win at Canberra ) - and what a great training effort from Mitch Beer to have her second up and running through the line over 2000 today. A real Credit to Mitch.
A wonderful ride and a great reward for a hard working stable team.

https://racing.racingnsw.com.au/FreeFields/Results.aspx?Key=2020Mar10,NSW,Wagga




This completed a Clanbrooke and Mitch Beer Double for the week, after HANGER ( pictured ) won the Echuca Cup on Sunday.
From his early days he has trained a number of winners for us, including a memorable Running Double at Kyneton just 3 years ago. We look forward to more.

It also rounded a terrific week that also included 2 city placegetters. Kootara was beaten 0.7L into third at Flemington whilst Mawaany Machine was runner-up at Eagle Farm and certainly looks to have his foot on the till.




Hanger Wins Echuca Cup!





It was only moments after Mitch Beer had arrived at Echuca for the Cup Day program that he thought his trip would be a wasted one.
The Albury trainer arrived with New Zealand recruit Hanger, a horse he thought could win the $100,000 Moama Bowling Club Echuca Cup, but one he knew was at his best on tracks with the sting out.
Beer was pleasantly surprised to see the five-year-old drive late to score victory in the 1400-metre event.
"We walked in and we got a text message that the track had been upgraded to a (Good) 4 and I said to (sister and racing manager) Ash, 'we should scratch this horse'," he said with a laugh.
"I just want to look after him. It's so hard to get good-quality horses and we treat him like a Group horse."
The son of O'Reilly turned in a performance that backed up the trainer's belief to score a fighting win, the fifth of his 22-start career.
Hanger, who started $12, scored by three-quarters-of-a-length from Easy Beast ($7) with $2.60 favourite Ashlor, who was chasing a second country feature in as many weeks, close up in third position.
"He's a horse that does hit a flat spot every run he has, but he's a horse that loves a wet track as well," winning jockey Teo Nugent said.
"As the track was drying out through the day, that was my only concern, but I can't wait to see him out to a mile. There's a lot of potential there."
C/- Racing.com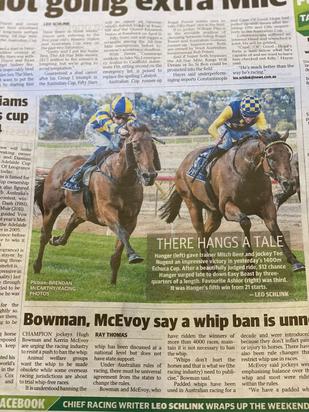 Upcoming Runners
Recent Winners
| Horse | Date | Race | Margin | Jockey |
| --- | --- | --- | --- | --- |
| Mapping | Jun 27, 2020 | 4 - Casterton | 4.50 | Ronan Short |
| Mistress Molly | Jun 19, 2020 | 6 - Racing.Com Park Syn | 1.00 | C Newitt |
| Mawaany Machine | May 15, 2020 | 2 - Sunshine Coast | 0.50 | Justin Huxtable |
| Seventh Seal | Apr 16, 2020 | 7 - Goulburn | 1.50 | A Layt |
| Mawaany Machine | Apr 09, 2020 | 4 - Gold Coast | 0.50 | A Mallyon |
| Seventh Seal | Apr 03, 2020 | 4 - Canberra | 1.80 | A Layt |
| River Of Gold | Mar 10, 2020 | 3 - Wagga | 2.30 | Ms K Nisbet |
| Hanger | Mar 08, 2020 | 7 - Echuca | 0.80 | Teodore Nugent |
| Think Poised | Jan 30, 2020 | 3 - Stony Creek | 3.00 | Lucinda Doodt |
| Ring Of Honour | Jan 16, 2020 | 8 - Racing.Com Park | 0.80 | L Nolen |
| Ring Of Honour | Dec 26, 2019 | 3 - Geelong | 0.80 | C J Parish |
| Zaberfeldie | Dec 07, 2019 | 1 - Albury | 0.20 | J Mallyon |
| De Little Sister | Dec 06, 2019 | 5 - Mornington | 1.50 | R Mc Leod |
| Ruler By Choice | Nov 28, 2019 | 8 - Racing.Com Park | 0.00 | Ethan Brown |
| Ruler By Choice | Nov 13, 2019 | 1 - Murray Bdge | 1.80 | B Vorster |
Latest Results
| Horse | Finished | Date | Race | Margin | Jockey |
| --- | --- | --- | --- | --- | --- |
| Mistress Molly | 7 | Jul 07, 2020 | 8 - BALLARAT SYNTHETIC | 4.10 | D W Stackhouse |
| Mapping | 4 | Jul 05, 2020 | 6 - Warrnambool | 10.10 | Chris Mc Carthy |
| Think He Mei | 8 | Jul 04, 2020 | 4 - Flemington | 10.60 | Jamie Kah |
| Previso | 3 | Jun 29, 2020 | 3 - Albury | 1.70 | J Mallyon |
| Lord Cedrick | 7 | Jun 29, 2020 | 2 - Albury | 6.80 | B Vale |
| Zaberfeldie | 2 | Jun 29, 2020 | 6 - Albury | 2.80 | J Mallyon |
| Dynamique | 9 | Jun 29, 2020 | 5 - Albury | 10.40 | J Mallyon |
| Jawwaal | 4 | Jun 27, 2020 | 2 - Rosehill Gardens | 3.70 | B Avdulla |
| Mapping | 1 | Jun 27, 2020 | 4 - Casterton | 4.50 | Ronan Short |
| Think He Mei | 3 | Jun 26, 2020 | 2 - Geelong | 1.80 | R Mc Leod |
| Mrs Whitten | 9 | Jun 25, 2020 | 4 - Moe | 8.50 | C Newitt |
| Mistress Molly | 1 | Jun 19, 2020 | 6 - Racing.Com Park Syn | 1.00 | C Newitt |
| Seventh Seal | 7 | Jun 17, 2020 | 7 - Warwick Farm | 7.50 | K Mc Evoy |
| Mapping | 4 | Jun 16, 2020 | 4 - BALLARAT SYNTHETIC | 15.00 | Ronan Short |
| Lord Cedrick | 9 | Jun 15, 2020 | 3 - Albury | 9.40 | B Vale |