Meet our stunning SPILL THE BEANS Filly - to be trained by Cindy Alderson

5% shares $2495 -including insurance for 12 months, full Inglis bonus series, Vobis Gold nomination and all expenses to ... Read More

Melbourne Premier DUNDEEL Colt - 5% shares $3495

Meet our new man in town: https://youtu.be/LccaA0igclo
To be trained by Cindy Alderson.
5% shares $3495 ... Read More

Queens Birthday at 'The Lodge'is back in 2019! $95 per head all inclusive - only a few tickets left!

Clanbrooke Racing will once again be hosting owners at 'The Lodge,' Mornington racecourse, this coming Queen's Birthday ... Read More
Clanbrooke on Fire
What a fortnight in the life of Clanbrooke Racing. Besides it being Inglis Premier sales time at which we were active and secured three lovely yearlings, it has been a tumultuous time on the track -

6 Winners and 3 seconds in 16 Days

They say when you are hot.....Our congratuations to our assiduous Trainers Mitch Beer, Pat Carey, Cindy Alderson,Tony McEvoy, Craig Widdison and Luke Oliver. What makes the results even better is that most of the horses are at the start of their preps and about to be joined by a number of horses ready to hit the trail. Very exciting times for Clanbrooke Owners.






4.02.2019


Mornington Racing Club have extended a special invitation to all Clanbrooke Owners to experience Membership for just $40!
This exclusive offer includes a Member pass, Guest pass and car park pass for the rest of the 2018-19 season, including Ladbrokes Mornington Cup and CF Orr Stakes Day at Caulfield!
PLUS, receive $50 discount on dining in the Silver Bounty Lounge or Gunnamatta Restaurant on Cup Day.
To redeem this special opportunity call Penny Takenaga on 5975 3310 before 10 March and mention Clanbrooke


02.01.2019
Lloyd Kennewell press release of January 2 -
In August of 2018 we made the big move and turned our attention into opening our stable in Melbourne at Caulfield. This was to allow us a chance for our business to blossom and grow in a state where racing is very strong, competitive but most of all rewarding for everyone involved. In five months we have had success with our small team all over Victoria, also at Metropolitan level and most of all we added our first Group 1 winner out of our Caulfield stable.
On the 1st of February 2019 we will be moving into a 30 horse barn that has been recently renovated by the Melbourne Racing Club. I am thrilled by this and I feel that it will allow us to continue to get great results and have more runners in a state that is moving forward. But most importantly it gives us stability for the future.
There is some very disappointing news coming out of Adelaide in regards to the funding and prizemoney cuts that the Government have made. We are already well below the prizemoney levels compared to the eastern states, and our costs are not that much different which really hurts the industry. It is very sad to see this happen in such a historic state of racing and there is no doubt the future of racing in the state is in turmoil. With a heavy heart this has left me with no choice but to speed up my decision to close the Morphettville operation down which will be effective from the end of January 2019.
I will be looking at moving all horses in training to the Caulfield base but will be discussing each horses future and what my plans are with them in the coming weeks with you all. I feel we have a great team of young horses on the way up and in the system and with this I have no doubt we are doing the best thing by you as owners.

Lloyd Kennewell
And it WAS a BIG Day
We said last week that we anticipated a big day at Wodonga on Friday and that is what transpired. A record 6 starters at the meeting for Clanbrooke ended with 2 winners and 2 placegetters. A phonemal finish to the 3YO where the Craig Widdison trained Tyson Returns came from tailed off last to run down our other runner Vin Du Jour in the shadows of the post. Both horses streeted the rest and are highly promising and we are already looking at the Autumn calendar for them.

Our battle worn sprinter As Bad As Tyson came out later in the day to lead all the way in the Open City Sprint to win by nearly 4 lengths. Considering we had in the back of our minds that this could have been his last race, Tyson raced like a 3YO and going places. He races well on his home track but no doubt we now have to give him another chance in the city.
Big day coming at Wodonga
This Friday's meeting at Wodonga for the Cup is a red-letter day for the Clanbrooke stable. We should have no less than 6 starters at the meeting! At acceptance time, both Mitch Beer and Craig Widdison, our local trainers, accepted with three runners each. Our horses will be -
Tyson Returns - Race 3
Vin Du Jour -Race 3
Royal Parade - Race 4
As Bad As Tyson - Race 5
Purrpussful - Race 8
Nicconi Poni - Race 8
Good luck to the many owners represented and we look forward to meeting many of you on-course.
The Carnival is over. Well, almost...
The 2018 Cup Carnival comes to a close this coming weekend with the running the Sandown Classic and Guineas. Whilst we had hoped to have a runner in the latter, the last week has been one of many highs for the team at Clanbrooke.
Our much under-rated filly Sizzleme, raced three times during the whole Carnival. Firstly a very good third in the MRC Ethereal S. at Caulfield. The filly was flushed out a good distance from home which was not in our plan as she was tackling 2000m for the first time, and forced to lead around the bend and was collared about 50m from home. Very satisfying but left us wondering what would have happened if she had been able to be cuddled for a little longer. Sizzleme then proceeded to the VRC Wakeful S. over 2000m at Flemington on Derby Day and after drawing the pole at the barrier, was forced to try and lead all the way. She was gutsy but again run down about 150m from home but really battled on to be beaten less than 2l.
The filly's Grand Final was always going to be the VRC Oaks last Thursday and what a day for all the owners. Emotionally draining after all the build-up, we were somewhat deflated at the barrier draw when we drew the second outside marble. The race itself was exciting for us as at one stage, Sizzleme would have been standing the leader about 20l, but raceday jockey Luke Curry was able to extricate her from behind the pack and she started to mow them down. No horse finished better but she just couldn't make up the distance and she finished 6th beaten a little over 3l. What she did show all of us was that she is right up to G1 racing and when she returns in the Autumn, we will be chasing the dream.
This Saturday marks the final day of the Carnival and Clanbrooke, as we did last year, will sponsor the running of the Listed Clanbrooke Racing Doveton Hcp. It is a great way to finish the Carnival and there should be plenty of Blue and Gold around the mounting yard and on the main screen.
Have Horse ...... Will Travel

Since we announced one of our main trainers - Mitch Beer, was relocating to Albury, we have had a number of owners give us their feedback. The almost unanimous verdict was one of complete support. One of the major discussion points with Mitch prior to his making his decision was on his appetite to travel with his horses back to the metropolitan areas if the horse was good enough and the right race came up on the calendar. Based on his agreement, Clanbrooke had no problem with the move.
Fast forward to today. Mitch is off to Rosehill with one of his 3YO fillies whilst having a runner at Flemington as well. Later in the week, Mitch and Clanbrooke will have a runner at Wagga as well as probable trials at Benalla. That is covering ground with his staff and we believe is testament to his agreement to travel anywhere if the right races are there.
The situation with Mitch is no different to that of a number of our trainers. Craig Widdison who trains at Wodanga, only 5 kilometres away, regularly travels long distances to races and only this month was presented with the RVL Colin Alderson Trainers Rising Star Award. We also have Steve Pateman at Geelong and Archie Alexander at Ballarat in rural areas and of course, no-one would dispute that Darren Weir's training establishments at Ballarat, Warrnambool and Maldon have not hindered racecourse success.
Horses Currently Available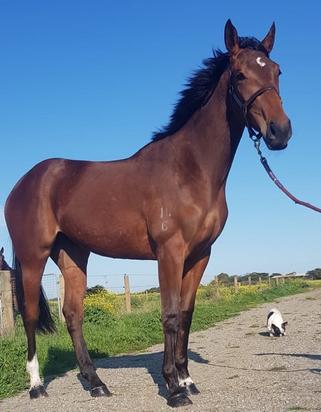 2 year old Bay Filly
Sire: Epaulette Dam: World Guide
Half-sister to Clanbrooke's `Nicconi Poni' by emerging sire - EPAULETTE
(recently named `Maryfromthedairy')
With our promising four-year-old Nicconi Poni showing such promise it is exciting to be able to offer her half-sister by emerging young ...
2 year old Bay Filly
Sire: Toronado Dam: Whitten's Delight
Cracking Super Vobis Filly by First Season Swettenham sire -
TORONADO

Every now and then a young stallion creates a stir before even having runners. Good judges inspecting his progeny at the sales are impressed, breakers more so. His youngsters end...
Upcoming Runners
Recent Winners
| Horse | Date | Race | Margin | Jockey |
| --- | --- | --- | --- | --- |
| River Of Gold | Mar 17, 2019 | 2 - Benalla | 0.30 | Ms N Beriman |
| Sherpa Trail | Mar 09, 2019 | 7 - Corowa | 0.20 | Ms K Nisbet |
| So Magnifique | Mar 03, 2019 | 8 - Wangaratta | 2.00 | Ms N Beriman |
| Vin Du Jour | Feb 23, 2019 | 2 - Albury | 3.00 | Simon Miller |
| So Magnifique | Feb 22, 2019 | 2 - Benalla | 3.30 | J Noonan |
| Toorak Cowboy | Feb 21, 2019 | 8 - Racing.Com Park | 0.80 | Rose Pearson |
| Purrpussful | Jan 22, 2019 | 3 - Wagga | 1.50 | Wendy Peel |
| Kobe Princess | Dec 30, 2018 | 7 - Seymour | 1.00 | Patrick Moloney |
| Out Of Kilter | Dec 12, 2018 | 6 - Balaklava | 0.50 | J Holder |
| Tyson Returns | Nov 30, 2018 | 3 - Wodonga | 0.40 | Ms L J Meech |
| As Bad As Tyson | Nov 30, 2018 | 5 - Wodonga | 3.80 | Ms S Metcalfe |
| Anna Baabella | Nov 16, 2018 | 8 - Gundagai | 0.50 | Simon Miller |
| Kobe Princess | Nov 16, 2018 | 2 - Kyneton | 0.40 | Patrick Moloney |
| Anna Baabella | Nov 05, 2018 | 4 - Corowa | 0.10 | Simon Miller |
| Anna Baabella | Sep 17, 2018 | 2 - Corowa | 0.50 | Nick Heywood |
Latest Results
| Horse | Finished | Date | Race | Margin | Jockey |
| --- | --- | --- | --- | --- | --- |
| River Of Gold | 1 | Mar 17, 2019 | 2 - Benalla | 0.30 | Ms N Beriman |
| Out Of Kilter | 9 | Mar 13, 2019 | 4 - Sandown-Hillside | 11.00 | J Bowditch |
| Nicconi Poni | 3 | Mar 12, 2019 | 6 - Echuca | 2.30 | Ms N Beriman |
| Vin Du Jour | 10 | Mar 10, 2019 | 4 - Canberra | 16.30 | Simon Miller |
| Toorak Cowboy | 3 | Mar 10, 2019 | 6 - Echuca | 2.80 | Rose Pearson |
| Sherpa Trail | 1 | Mar 09, 2019 | 7 - Corowa | 0.20 | Ms K Nisbet |
| Sizzleme | 11 | Mar 09, 2019 | 7 - Flemington | 6.20 | B Melham |
| Mistress Molly | 2 | Mar 08, 2019 | 2 - Cranbourne | 3.80 | Clayton Douglas |
| Out Of Kilter | 2 | Mar 05, 2019 | 5 - Seymour | 0.10 | Jamie Kah |
| So Magnifique | 1 | Mar 03, 2019 | 8 - Wangaratta | 2.00 | Ms N Beriman |
| River Of Gold | 5 | Mar 01, 2019 | 4 - Wagga | 3.30 | Simon Miller |
| Out Of Kilter | 6 | Feb 26, 2019 | 6 - Bendigo | 4.40 | John Allen |
| Sherpa Trail | 4 | Feb 23, 2019 | 7 - Albury | 2.80 | Ms K Nisbet |
| Vin Du Jour | 1 | Feb 23, 2019 | 2 - Albury | 3.00 | Simon Miller |
| Nicconi Poni | 2 | Feb 22, 2019 | 5 - Benalla | 0.80 | J Mott |