RIP DEANE LESTER - A FRIEND OF EVERYONE
RIP Deane Lester: Racing mourns a legend
The late Deane Lester
The Australian racing community is in deep mourning following the death of revered industry identity Deane Lester, aged 54.
Deane, one of the most respected and astute form students in the game, passed away peacefully on Thursday night with his family by his side following a brief battle with cancer.
The news has sparked an outpouring of emotion in racing circles with RSN issuing a statement paying tribute to a "much-loved friend and colleague".
"It is with great sadness we inform you of the passing of our much-loved friend and colleague Deane Lester," the statement read.
"On behalf of the RSN Racing and Sport board and staff, we extend our deepest condolences to Deane's mother Sandra and his partner Leanne.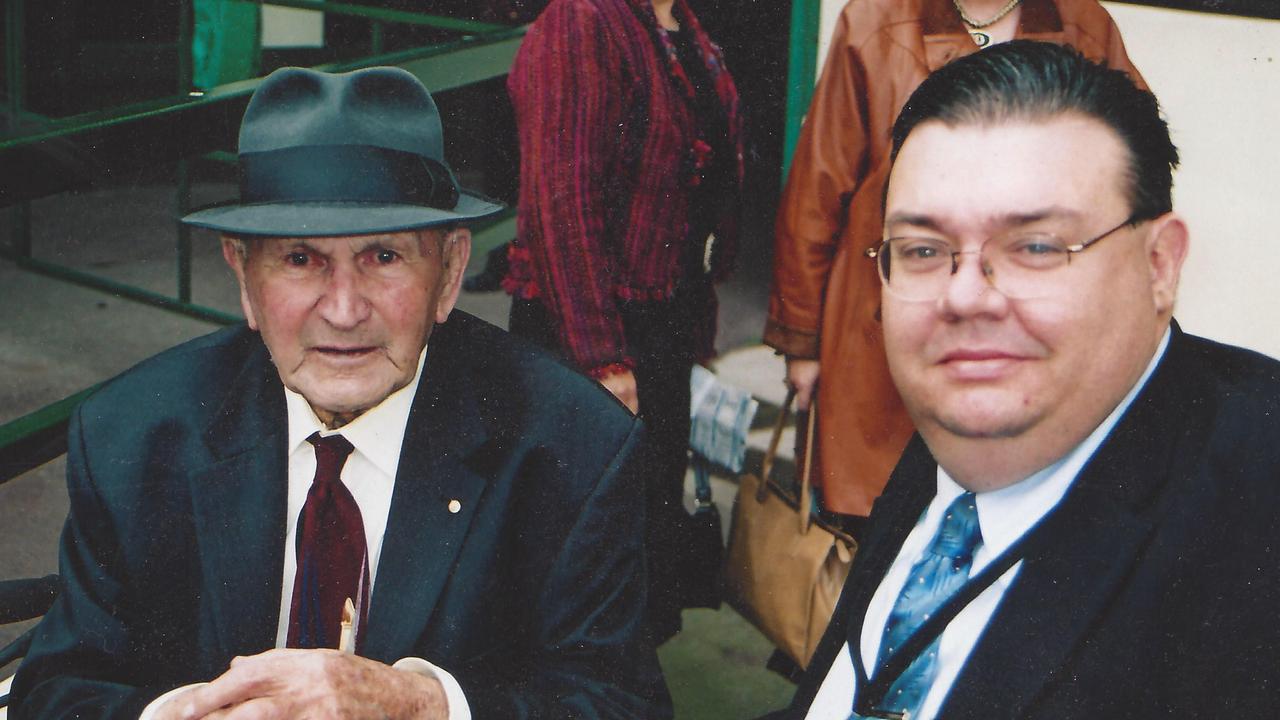 Deane Lester at the track.
"As you may be aware, 'Deano' has experienced health issues throughout his entire life. He was born with Spina Bifida and from 2002 was aided by a mobility scooter.
"Despite this, Deane never complained, moving forward with courage and dignity. There was work to be done, winners to be found"
Courtesy Racenet
NICK HASSETT THE TIP FOR CAULFIELD
One of Clanbrooke's long term owners is the long time Mornington identity - Nick Hassett. Nick has been an ever reliable source of business and racing advice for a very long time and it is our privilege to be able to endorse his candidature for the MRC Committee. Nick has an extraordinary background to enable him to bring some order to the Committee that at present seems hell bent on change - including the sale of Sandown.
Please read his CV and i am sure like us, you will feel comfortable having the future of the MRC partly in his hands -
This is your club.
As part of a united committee, I will represent our members and advocate to:
Celebrate our rich racing history by promoting racing at all three venues;
Caulfield – the jewel in the crown;
Sandown – an outstanding racing surface;
Mornington – our provincial racing and training centre;
Prioritise members' facilities and respect members' sentiment in venue developments;
Keep racing at Sandown.Bring forward the member vote to end the uncertainty surrounding its future;
Provide a safe and welcoming raceday experience for members, particularly female members and families, to encourage a greater cross section in our membership base;
Maintain focus on contemporary training facilities for Mornington; and
Nurture relationships with industry stakeholders to improve collaboration and enhance the appeal of our sport.
Sandown is the asset which underpins our financial stability.The revenue streams from any form of development should benefit all MRC venues and build on our financial strength.
Leveraging my professional experience in strategy and governance, my love for our sport, and 28 years a member, I intend to deliver positive change for the benefit of our members
Employment
Managing Director and Principal, Dynamic Consulting Pty Ltd
Qualifications
Masters of Public Policy & Management (MPPM), Monash University
Graduate, Australian Institute of Company Directors (GAICD)
Certificate, Governance in Sport, Governance Institute of Australia
Directorships & Committee Experience
Non-Executive Director, Pony Club Australia
Committee Member, Thoroughbred Club of Australia
Member, Mornington Advisory Group, Melbourne Racing Club
Memberships and Affiliations
Melbourne Racing Club
Victoria Racing Club
Thoroughbred Club of Australia
Australian Institute of Company Directors
Digital Leadership Institute of Australia
World Commerce and Contracting Association
SAXON WARRIOR EMERGES
Following on from our purchase at this year's Premier Sales, the sire of our Purpussfull Filly, Saxon Warrior, has made headlines in Europe overnight. Courtesy of Breednet -
€520,000 Saxon Warrior Filly Makes History at Tattersalls Ireand
Media Release - Thursday May 19
For the second year in succession, the Tattersalls Ireland Goresbridge Breeze Up Sale produced an outstanding set of record-breaking results with a new record top price of €520,000, the first time in the sale's history that the half million mark has been topped.
Sale-topping Saxon Warrior filly from Causeway Queen.
The vibrant action throughout the one-day session, the sale back at its Fairyhouse venue for the first time since 2019, produced a record turnover of €6,639,000, as well as a record number of six-figure lots at 11, including four lots that sold for €200,000 and over.
It was also a best-ever average price of €38,155, a second-best median price of €22,000, and horses sold at 85 per cent clearance rate.
The day's cosmopolitan buying bench means that purchased lots from Europe's most progressive breeze up sale are due to embark on racing careers in many different global locations including Dubai, Germany, France, Italy, Sweden, the UK, and also in Ireland.
Katie Walsh's Greenhills Farm, who sold a previous Goresbridge Sale record-breaker when the Grade 1 and Classic-placed Frankel filly East topped the sale in 2018, repeated the feat this year with a filly by Saxon Warrior (Lot 151) from unraced Giant's Causeway mare Causeway Queen. She was sold on behalf of James Hanly's Ballyhimikin Stud.
The chestnut filly is this year's third-most expensive European breeze up filly. She was bought by agent Stephen Hillen on behalf of a new client and she goes into training with Kevin Ryan.
Hillen described the filly as "freakish" after her breeze on Wednesday.
"She is a completely different shape to East, but this filly kind of reminded me of East's breeze – it was almost freakish," he enthused. "This filly is bred to go a mile plus or 1m2f, with her pedigree she should not be able to do what she is doing, and she is a big, raw individual. Hopefully, once she is able to go a mile, then her speed could be massive."
A delighted Walsh said: "I think everyone was quite surprised with the time that she did compared to the physical that she is. I was lucky enough to sell East to Stephen Hillen at the old Goresbridge venue and I hope this filly turns out as lucky.
"I knew coming here that she was going to clock well, I had a fair idea that she is a tasty filly – all she had done is please me since I have had her. She has always been a straightforward filly with a great galloping stride and a great attitude. With these fillies it just comes so naturally to them, it is just different gravy."
Saxon Warrior (Jpn)
Saxon Warrior will have his first Australian runners next season and is on the Coolmore roster this year at a price of $19,250.
TASMANIA A STATE OF OPPORTUNITY
A couple of years ago, Clanbrooke and our sister business organization Elite Racing Solutions, decided to test the waters in the Apple Isle. The State appeared on the verge of a comeback with increased prizemoney and an improved breeding operation with the influx of sires from the mainland. Together with our Trainer, Mark Ganderton, Brooke and Brent attended the MM Sales and came home with a NEEDS FURTHER filly. Needs Further is of course the sire of the Champion mare MYSTIC JOURNEY, winner of over $4m. before being recently retired. Our filly was subsequently named Far Away Hit and to date has a win and a placing from 4 starts. What is more emphatic however is that she has won only a few dollars short of $40000.
The following year, we purchased an ALPINE EAGLE filly now racing as Monte Bianco. On Wednesday at her third start, she saluted at Launceston very impressively and took her earnings to almost $30000 from 3 starts. No doubt she is Melbourne bound in the near future for all her Victorian owners to go and see.
This year we upped the ante by buying two colts - one by Stratosphere and the other by Needs Further. The Stratosphere is a close relation to our very own ARAPAHO MISS as well as MIAMI BOUND, DE LITTLE ENGINE etc. The Stratosphere colt is a full brother to the G3 winner DEROCHE - winner of $562000 and 13 races from 26 starts.We are finding the market in Tasmania far more conducive to our clientele and obviously - and luckily - we have been able to source nice types who have so far, trained on to be winners.
Think about it - a great place to go for a weekend or a week's holiday. Easy to get to and the food and sightseeing is second to none. And a winner to boot! How good would that be? With the prizemoney now on offer down south, we will be looking at more purchases down there so why not join us. If you have interest in either of the colts mentioned, just contact Chris on 0419 176 992.

GOOD LUCK MITCH

It's the back end of March and it's ALBURY CUP time for many of our owners and of course for Mitch Beer. This is Grand Final time for the stable and Mitch will be represented by no less than 6 starters on Thursday and 9 on Friday. Quite an achievement for a Country trainer. What is more amazing however is Mitch's stats this Racing Year. Mitch is sitting in 5th place statewide in the Country Trainers Premiership. His stats of 26 wins ( 13.2% to runners ) and 43 placegetters ( 35% to runners ) compares very favorably with the leader of the pack - the well credentialed Kris Lees from Newcastle who has percentages of 17.6% and 41% respectively - no doubt from horses who cost a lot more and better bred than those in the Albury barn. Good Luck Mitch.
GREAT START TO THE NEW YEAR
What a difference it makes once Spring comes over the horizon and the footy is finished. Racing takes over and the good horses are back on the track and boy, do we need them at the moment in Victoria. After a great 20/21 for Clanbrooke, I thought I would give an overview of where we are headed in 21/22.
Our star at present would be Regardsmaree ( x So You Think) – a 3 time city winner in the Autumn and now battling it out at the top level in Spring. Has not had a lot of luck in his races this prep but don't sell him short. He will win a Stakes race before long. Well done to NicK Ryan who has emerged as one of the brightest young trainers in the state. Cindy Alderson has some handy ones including Newzeel Deal. NZD is an a quality Dundeel colt who is starting to progress through the grades and though it maybe next Autumn before he really shines, the indications are all there. Cindy also has Gabstar (x Star Witness) on her books and although this filly is injured at present, she could be a lovely staying filly next year.
Mitch Beer has certainly been making a name for himself tucked away in Albury. Taking horses to Sydney for their very well positioned Highway races or coming to Melbourne is all in a week's work for Mitch. Power Me Up (x Pins ) has won 4 of his last 5 races for us and has proved an excellent purchase off the Inglis Digital Sale platform for not much money. Jawwaal has returned from injury following a gallant second down the straight at Flemington and will win races whilst two of our younger purchases – Superadobe (x Excced and Excel) and Penny Stocks (x Capitalist) have both shown in the last couple of weeks that they have their hoof on the till. Our English import Perfect Illusion has returned from his first long spell looking like a different horse. Watch out for him over the next few weeks.
Our best hope of G1 glory over the Carnivals could well be the Cable Bay filly Tiz My Bay with Robbie Griffiths. Running this coming week in the MRC Etherial S (G2), we expect she will go on to the VRC Oaks (G1) with our guarded confidence. Tony and Calvin McEvoy have a couple of very nice horses for us. Jucconi (x Nicconi) is unbeaten after two starts and Think Winning has just won his second race and looks set to go through the grades. The Ellerton/Zahra team at Flemington have turned up Shootoose (x Shooting To Win) who will take a little time but has already showed signs of being a city class horse. And of course we have our gallant grey jumper Mawaany Machine with Cairon Maher. The Machine had 5 starts in his debut season for 3 wins and 2 placings. No doubt we will be shooting for the big races next prep. And speaking of jumpers, Pat Carey has the So You Think stayer Think He Meituning up for a jumps programme next winter but before that he is back on track heading to the Jericho Cup at Warrnambool.
And interstate we have a couple for everyone to follow. In Tasmania we have Far Away Hit (x Needs Further) who has won at her only start and is readying for the 3YO Cup next month and then the Classics after Christmas. In NSW we have the Mark Minervini trained Go Gazza (x Foxwedge) ready to rock and roll in the newly minted Four Pillars – another of that State's Pop-Up races worth plenty of money.
Have a great Carnival.
31.7.2021
Albury trainer Mitchell Beer will seal his first Southern District Racing Association premiership at Corowa on Monday in a year that has been like no other. The former Victorian trainer has several strong chances headed by last-start Narrandera Cup winner Power Me Up ($3.10 favourite on TAB) as well as the consistent Seventh Seal ($8). Beer has been training out of Albury for three years and being based in the border city has tested the resolve of all involved with the stable during COVID-19. "Frustrating is an understatement. We have had a good season, but the logistics of being based on the border has been difficult," he said. "This will be my first SDRA premiership and it's nice to have after a tough year. The stable has had more seconds (36) than winners (31) which is frustrating, but you can also look at that and know if the horses aren't winning they are at least right there." One horse that has been doing plenty of winning is Power Me Up (Pins) – a $20,000 purchase that continues to go from strength to strength. The gelding has won four of his past five starts and will carry the same weight (55.5kg) as he did when he won the Narrandera Cup.
31.7.2021
2020/2021 A Record Season
Coming towards the end of the current racing season, Clanbrooke Racing has had a whirlwind set of results. With 4 winners in the last 10 days, we are pleased to announce we have had a record season. We now stand at 28 wins for 20/21 and we think we can get to 30 over the next 10 days. What has been really impressive during this last month is that the winners have come from 4 different trainers in 2 states.
Tony and Calvin McEvoy produced Juconni to win at her first start at Pakenham - she is a rising 4YO who has been nurtured along by her patient owners but the wait is now worth it. Cairon Maher and David Eustice had Mawaany Machine up and running to win a 120 Hurdle at Pakenham on their big Jumps day. The ghostly grey led all the way to take his hurdle record to 2 wins and a third from 3 starts. The Grand National beckons. Power Me Up gave Mitch Beer and us another Country Cup at Narrandera on Sunday. This gelding , who was purchased on the On-line Inglis platform for only $20k, has now won 4 of his last 5 starts. And yesterday one of our oldest friends, Mark Minervini, saluted at Wyong with Go Gazza. Gazza is from the family of our wonderful G1 winner and now top-class broodmare Arapaho Miss.
Our congratulations and thanks to all our valued owners who have helped to make this a record year and also to the wonderful trainers we have. We will have a full round-up of the year once we move into August but until then, there is still work to be done.
July 15 2021

Think Bold is here to stay
Courtesy Racing.com
Former star jumper Bashboy (Image: Slickpix)
Dean Humphries has always enjoyed exploring the conflicts and contradictions of the thoroughbred breeding game, so you can imagine his anticipation ahead of Saturday's 1800-metre Byerley Handicap at Flemington.
Running though his mind before the race will be confusing images of sprint stars Nature Strip and Written Tycoon, interspersed with visions of marathon super jumper Bashboy.
Carrying Humphries' Clanbrooke Racing's royal blue with gold stripes and hooped sleeves in the race will be first starter Think Bold, who presents a challenge to breeding experts as he makes his debut in the longest two-year-old race of the season.
Think Bold is by star sprint stallion Written Tycoon out of Stakes-winning Perugino mare Bashful Girl, whose mother Strike High is something of a wonder in breeding circles.
She is the full sister of Bashboy - one of the best long-distance steeplechasers in Australia in modern times - and her half-sister Strikeline is the mother of none other than flying speedster Nature Strip.
"It's a great little pedigree but with Bashboy in it and Nature Strip, it's hard to know what you'll get," Humphries said.
"He's thrown to the staying side rather than the brilliant side of the family but hopefully there is some sting in the tail, especially first-up.
"We think it's an interesting experiment.
"When you put a steeplechase horse like him that could go four miles up with Written Tycoon and Nature Strip, it's deadset interesting what you are going to get out of it."
Humphries said he had long doubted the gelding would race as a two-year-old after he gained the horse from long-time friend and breeder Ian Macdonald.
"We both thought he was just going to take a bit of time and thought he might not get to the track this time (preparation) but he has taken more steps than we had envisaged and I think he took (trainer) Phillip (Stokes) by surprise a bit too.
"Once we put him on the track, he might be one of those horses that has white-line fever. He's gone ahead very quickly.
"He's had two trials and while neither was fantastic, he improved sharply between them and I think Phillip thought we'd decide we'd find out what he's got.
"He (Stokes) mentioned that he might start him over a mile and I thought 'That's OK, he might take him to Bairnsdale or Moe for a mile maiden', so my eyes did open up when he said we were going to Flemington on Saturday.
"I think he (Stokes) wants to find out whether he can stay.
"I am going to be happy for him to run home and run through the line and then look at him for the next 100 meres and see what he does there."
Humphries and Clanbrooke Racing have syndicated a number of horses out of Bashful Girl, including Think Rich (Written Tycoon), Think Winning (Exceed And Excel) and Think Poised (Sepoy) but Think Bold is the most promising.
"I think he's the best type even though he was big and awkward, he was the best type of all of them I've seen," he said.

Jucconi wins on debut
Courtesy Graham Fischer

Trainer Tony McEvoy's love of the stock of the stallion Nicconi is well known and another youngster broke through on race debut for the stable on the Pakenham Synthetic on Saturday, July 10.
Jucconi, trained by Tony and Calvin McEvoy, led throughout to win the On Tour With Ab TV Three-Year-Old Maiden (1200m).
Ridden by Jack Hill, and backed late from $9 into $4.40, the gelding coasted home two lengths clear of Cent To War ($11) with Imprinted ($9), a neck away third.
"Right from day one he has always shown us something," McEvoy said.
"But he was just so immature, and really didn't want to be trained.
"That is why he was only having his first run today and will actually turn four in less than a month.
"There was always something going wrong but finally we got him to the races.
"In his gallops he has been showing a tendency to hang in, but jumping to the front today, he had the inside rail to guide him.
"Once he led he was going to be hard to beat. But we won't know until tomorrow whether we can go or, or he will have to have a break.
"It has been a frustrating ride for the connections which includes a few of the Port boys headed by former player John Butcher.
"Their patience was rewarded today and I'm sure they are going to have some fund with him once he completely matures."
Jucconi was a $125,00 yearling purchase at the 2019 Melbourne Premier Yearling Sale.
13.05.2021
Welcome home Cliff

When Clanbrooke first became involved with Syndication, our initial trainer was a young gun from a property at Narbethong not far from the shores of Lake Eildon. Cliff Brown had been training for a few years and had just started to make a name in the Industry. Those initial years saw such good horses as Cheviot and Markham both win the G1 South Australian Derby with the latter going on to record a great third in the Melbourne Cup behind Might and Power and Doriemus. This was followed by the classy Tarnpir Lane who took the G1 Rosehill Gns and Memsie S. along with a myriad of other Group placings. Then along came the horse that put Cliff and Clanbrooke together – Emission. Emission was a multi Group winner and placegetter and unfortunately three times G1 placed – in great races such as the AJC Queen Elizabeth S., VRC Emirates S. and the VRC Mackinnon S. It was not long after that Cliff was offered the opportunity to take up a contract in Singapore, a sojourn that lasted some 13 years in which time he trained another 8 G1 winners.
But life has now turned a full circle and Cliff and family have returned to Victoria and taken up Training Stables on the course at Mornington. Clanbrooke has already bought into an All Too Hard yearling as we look forward to the next phase of Cliff's journey. We have a group of wonderful trainers now at Mornignton. Besides Cliff, read Pat Carey, Matt Laurie, Jason Warren & Dean Krongold, Tony Noonan, stables that would suit every owner. So welcome home Cliff, let's get back into sharing winners.

04.05.2021
MAWANNY SALUTES AT WARRNAMBOOL


Congratulations Everyone on " The Machine's " great win at the Bool today, his first start over the jumps and doing it at the famous May Carnival was a beautiful tonic for us all.
We Won the George Taylor Memorial....George was on the committee at Warrnambool for 22 Years and raced over 100 winners in his Ownership career....including being the Managing Owner of the great Galleywood who won the 1986 Grand Annual Steeplechase.
George was awarded Life Membership of the Club in 1996 and was awarded the Order of Australia Medal in 2008.
Mawaany looked a treat in the yard and was very relaxed from the time he arrived at the course. Even when racing in transit, he had his head on his chest, conserved his energy and dictated the terms in pace.
Great to share it with Steve Pateman ( our trainer of Mapping as well ). A great heady ride and a wonderful training achievement to get a horse to win its first start over the jumps. Well done to Maher / Eustice Racing and their Team.
Our Thanks also goes to Australian Bloodsock lead by Jamie and Luke. Clanbrooke has a strong association with them and it is great to share winners with their team.
Enjoy the celebrations and we look forward to a new part of his career just beginning.
Mawaany still has a bit to learn. He baulked at a couple of jumps and he kicked one over...but that means there is room for improvement.
Cairon Maher told me after the race that he may now mix his jumping with a bit of flat racing as well.
He was great on the flat today, he really stretched out in the straight when the jumping was over.
Go Mawaany.
Congratulations to all our 2019/2020 Owners
We already have 2 Winners early in the new season and we look forward to building a new library to present to you in 12 months' time. We hope your horse/s are a part of it.
Best Wishes
Brooke, Dean and Chris
Upcoming Runners
Recent Winners
| Horse | Date | Race | Margin | Jockey |
| --- | --- | --- | --- | --- |
| Monte Bianco | Mar 26, 2023 | 3 - Hobart | 4.80 | B Mc Coull |
| Perfect Illusion | Mar 24, 2023 | 2 - Albury | 0.20 | A B Collett |
| Magnolia Belle | Feb 09, 2023 | 3 - Wagga | 3.80 | D R Beasley |
| Shootoose | Dec 29, 2022 | 3 - Cranbourne | 1.30 | D W Stackhouse |
| Flight To The Moon | Nov 27, 2022 | 7 - Traralgon | 1.30 | D Moor |
| A Pinch Of Luck | Nov 25, 2022 | 9 - Cranbourne | 0.10 | Beau Mertens |
| Newzeel Deal | Oct 15, 2022 | 4 - BALLARAT SYNTHETIC | 4.30 | B Park |
| Flight To The Moon | Oct 14, 2022 | 1 - Moe | 0.10 | Declan Bates |
| Perfect Illusion | Jul 23, 2022 | 3 - Morphettville Parks | 2.00 | Jake Toeroek |
| Paris Shiraz | Jul 09, 2022 | 2 - Racing.Com Park Syn | 0.20 | R Downey |
| Perfect Illusion | Jul 09, 2022 | 3 - Gawler | 2.00 | Todd Pannell |
| Seventh Seal | Jun 27, 2022 | 7 - Corowa | 0.80 | Fiona Sandkuhl |
| Gabstar | May 27, 2022 | 2 - Cranbourne | 1.50 | Damien Thornton |
| Regardsmaree | Apr 30, 2022 | 8 - Sandown-Hillside | 0.50 | W Egan |
| Regardsmaree | Apr 23, 2022 | 7 - Caulfield | 0.10 | W Egan |
Latest Results
| Horse | Finished | Date | Race | Margin | Jockey |
| --- | --- | --- | --- | --- | --- |
| Monte Bianco | 1 | Mar 26, 2023 | 3 - Hobart | 4.80 | B Mc Coull |
| Far Away Hit | 2 | Mar 26, 2023 | 1 - Hobart | 0.10 | T Baker |
| Perfect Illusion | 1 | Mar 24, 2023 | 2 - Albury | 0.20 | A B Collett |
| Extreme Ally | 3 | Mar 16, 2023 | 1 - Kyneton | 0.90 | Jarrod Fry |
| Perfect Illusion | 3 | Mar 16, 2023 | 2 - Wagga | 1.80 | D R Beasley |
| Think Bold | 7 | Mar 16, 2023 | 7 - Kyneton | 5.20 | B Higgins |
| Monte Bianco | 6 | Mar 15, 2023 | 4 - Launceston | 1.70 | Michael Poy |
| A Pinch Of Luck | 9 | Mar 10, 2023 | 8 - Racing.Com Park | 17.60 | B Mc Dougall |
| Electrocube | 5 | Mar 09, 2023 | 2 - Bendigo | 7.10 | J Bowditch |
| Magnolia Belle | 9 | Mar 06, 2023 | 5 - Wagga | 6.90 | D R Beasley |
| Perfect Illusion | 4 | Mar 06, 2023 | 2 - Wagga | 4.10 | Fiona Sandkuhl |
| Think Bold | 7 | Mar 03, 2023 | 8 - Racing.Com Park | 3.00 | B Higgins |
| Far Away Hit | 7 | Mar 01, 2023 | 4 - Launceston | 4.40 | T Baker |
| Howlin Rain | 10 | Mar 01, 2023 | 8 - Sandown-Lakeside | 4.80 | Jye Mcneil |
| A Pinch Of Luck | 6 | Feb 24, 2023 | 8 - Kilmore | 4.00 | J Noonan |