Big, strong filly by First Season Darley Stallion ASTERN

Darley have a high opinion of Freshman Sire ASTERN, standing him at their Hunter Valley Stud as well as shuttling him ... Read More

Chestnut Filly by versatile Stallion STAR WITNESS

A Champion 2YO AND 3YO Colt of his generation, STAR WITNESS won his first three starts as a 2YO including the G1 Blue ... Read More

Athletic Filly by Horse of the Year DISSIDENT- out of a Stakes Winning Mare!

2015 Horse of The Year and 2015 Champion sprinter DISSIDENT is a five time Group 1 winning son of the 2008 Golden ... Read More
River of Gold makes it 2 wins in 3 days for the Clanbrooke - Mitch Beer team!
Congratulations to all the patient owners of River Of Gold who won her third race today at Wagga from just 13 starts. We bought this mare at the Melbourne Premier Sale and are thrilled to be racing this horse with the Breeder Lauriston Park (hence she races in their colours). She is very nicely bred, being out of Gold Copy, but she has taken a little time to reach her potential.
Have a look at the Video below to witness a copybook ride from Kayla Nisbet ( who rode her to a win at Canberra ) - and what a great training effort from Mitch Beer to have her second up and running through the line over 2000 today. A real Credit to Mitch.
A wonderful ride and a great reward for a hard working stable team.

https://racing.racingnsw.com.au/FreeFields/Results.aspx?Key=2020Mar10,NSW,Wagga




This completed a Clanbrooke and Mitch Beer Double for the week, after HANGER ( pictured ) won the Echuca Cup on Sunday.
From his early days he has trained a number of winners for us, including a memorable Running Double at Kyneton just 3 years ago. We look forward to more.

It also rounded a terrific week that also included 2 city placegetters. Kootara was beaten 0.7L into third at Flemington whilst Mawaany Machine was runner-up at Eagle Farm and certainly looks to have his foot on the till.




Hanger Wins Echuca Cup!





It was only moments after Mitch Beer had arrived at Echuca for the Cup Day program that he thought his trip would be a wasted one.
The Albury trainer arrived with New Zealand recruit Hanger, a horse he thought could win the $100,000 Moama Bowling Club Echuca Cup, but one he knew was at his best on tracks with the sting out.
Beer was pleasantly surprised to see the five-year-old drive late to score victory in the 1400-metre event.
"We walked in and we got a text message that the track had been upgraded to a (Good) 4 and I said to (sister and racing manager) Ash, 'we should scratch this horse'," he said with a laugh.
"I just want to look after him. It's so hard to get good-quality horses and we treat him like a Group horse."
The son of O'Reilly turned in a performance that backed up the trainer's belief to score a fighting win, the fifth of his 22-start career.
Hanger, who started $12, scored by three-quarters-of-a-length from Easy Beast ($7) with $2.60 favourite Ashlor, who was chasing a second country feature in as many weeks, close up in third position.
"He's a horse that does hit a flat spot every run he has, but he's a horse that loves a wet track as well," winning jockey Teo Nugent said.
"As the track was drying out through the day, that was my only concern, but I can't wait to see him out to a mile. There's a lot of potential there."
C/- Racing.com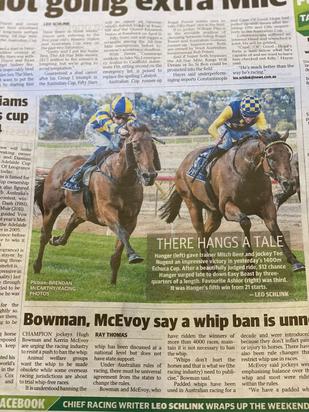 Upcoming Runners
Recent Winners
| Horse | Date | Race | Margin | Jockey |
| --- | --- | --- | --- | --- |
| River Of Gold | Mar 10, 2020 | 3 - Wagga | 2.30 | Ms K Nisbet |
| Hanger | Mar 08, 2020 | 7 - Echuca | 0.80 | Teodore Nugent |
| Ring Of Honour | Jan 16, 2020 | 8 - Racing.Com Park | 0.80 | L Nolen |
| Ring Of Honour | Dec 26, 2019 | 3 - Geelong | 0.80 | C J Parish |
| Zaberfeldie | Dec 07, 2019 | 1 - Albury | 0.20 | J Mallyon |
| De Little Sister | Dec 06, 2019 | 5 - Mornington | 1.50 | R Mc Leod |
| Ruler By Choice | Nov 28, 2019 | 8 - Racing.Com Park | 0.00 | Ethan Brown |
| Chuparosa | Nov 23, 2019 | 4 - Adaminaby | 1.30 | Simon Miller |
| Ruler By Choice | Nov 13, 2019 | 1 - Murray Bdge | 1.80 | B Vorster |
| Jawwaal | Oct 12, 2019 | 5 - Albury | 0.50 | Ms K Nisbet |
| Regardsmaree | Aug 31, 2019 | 1 - Morphettville Parks | 0.20 | Ms G Cartwright |
| Regardsmaree | Aug 08, 2019 | 1 - Warrnambool | 4.30 | Josh Cartwright |
| Swift Serenity | Aug 06, 2019 | 1 - Wodonga | 0.20 | Lachlan King |
| Mr Trump | Jul 28, 2019 | 4 - Sapphire Coast | 0.20 | J Mallyon |
| Tyson Returns | Jul 21, 2019 | 7 - Wangaratta | 1.80 | C A Robertson |
Latest Results
| Horse | Finished | Date | Race | Margin | Jockey |
| --- | --- | --- | --- | --- | --- |
| Perfect Illusion | 5 | Mar 30, 2020 | 8 - Wagga | 3.40 | J Mallyon |
| Mawaany Machine | 5 | Mar 28, 2020 | 3 - Doomben | 0.90 | James Orman |
| Kobe Princess | 5 | Mar 28, 2020 | 9 - Wodonga | 1.00 | Jaden Lloyd |
| Hanger | 2 | Mar 28, 2020 | 1 - Rosehill Gardens | 0.50 | B Avdulla |
| Chuparosa | 7 | Mar 28, 2020 | 4 - Wagga Riverside | 19.50 | Brent Evans |
| Tyson Returns | 4 | Mar 28, 2020 | 7 - Wodonga | 3.50 | Chelsea Macfarlane |
| Mrs Whitten | 4 | Mar 27, 2020 | 1 - Racing.Com Park | 7.30 | D W Stackhouse |
| Perfect Illusion | 6 | Mar 20, 2020 | 7 - Albury | 6.00 | J Mallyon |
| Regardsmaree | 9 | Mar 20, 2020 | 5 - Albury | 4.10 | Ben Allen |
| River Of Gold | 10 | Mar 20, 2020 | 3 - Albury | 8.30 | Ms K Nisbet |
| All On Her Roan | 12 | Mar 20, 2020 | 1 - Albury | 19.60 | Ms K Nisbet |
| Mr Trump | 9 | Mar 19, 2020 | 5 - Albury | 8.20 | Ellen Hennessy |
| Think He Mei | 12 | Mar 19, 2020 | 4 - Albury | 9.80 | Teodore Nugent |
| Reveal All | 7 | Mar 17, 2020 | 1 - Cranbourne | 5.00 | L Nolen |
| Tyson Returns | 3 | Mar 14, 2020 | 4 - Berrigan | 4.20 | Chelsea Macfarlane |