The Highs and Lows of Racing
The highs and lows of the racing industry - and all in one weekend. That's what we have endured this week at Clanbrooke. The highs were really good results from our three runners -
- Perfect Illusion had his best result for the table since arriving from GB in finishing 2nd in the Weary Dunlop at Benalla on Friday

- Power Me Up finished a great 2nd at Albury yesterday being beaten only by the odds-on favourite from Melbourne.

-Think He Mei saluted in the wet at Yarra Valley yesterday franking the potential he has shown once he got out to a staying trip. More to come from this horse.

The low was the untimely passing of our So You Think mare Vin du Jour. Vinnie had a month old Prized Icon foal at foot but suffered complications on Friday and ultimately passed away on Saturday morning. The foal is fine and with the help of staff at Rosemont Stud, we have been able to get it onto a foster mum. Vinny was due to be served by our new Breeding Rights stallion, Strasbourg.

CLANBROOKE RACING
" Sharing Winners for Over 20 Years "
Welcome to the Victorian Grand Final / Cox Plate Public Holiday Long Weekend.
Its a quiet one Racing wise for us with only a couple of runners over the next few days but it gives us a chance at Clanbrooke to Welcome our New Partners Mitchelton Wines to our Racing Family. Please read below and explore what Mitchelton has to offer as there will be special deals, competition offers etc going forward.
Keep an eye out for our Mitchelton Wines / Clanbrooke Melbourne Cup Sweep to be announced very shortly.
RUNNERS COMING UP OVER THE NEXT FEW DAYS.
Today Friday
PERFECT ILLUSION steps out in the 7th race at Benalla over 2046 meters and has drawn barrier 1of 9 in Race 7 at 3.30. Perfect Illusion will be ridden by Theo Nugent. This horse is now stepping up to his right journey and is working well. The only query we have is today's weather. perfect Illusion is unproven in the wet and they are expecting a lot of rain in the afternoon in the region. Keep your fingers crossed that it holds off til after 3.30.
Saturday
THINK HE MEI is also stepping up to his right journey at Yarra Glen where he steps out in Race 1 and has drawn Barrier 5 in a field of 11. Patrick Maloney will take the ride over 1962 meters. Unlike Perfect Illusion, Think He Mei revels in the heavy going so the wetter the better for him. Good luck.
POWER ME UP is also due to step out at Albury in Race 5 at 4.05 where he has drawn Barrier 14 of 14. This fella is placed on a Soft Track but unproven in the heavy...so here is hoping.
Further Updates will come through on our MiStable Service for all other owners re Nominations and Acceptances over the coming days.

THIS COMING WEEK AT CLANBROOKE RACING
'' CLANBROOKE RACING ''
Sharing Winners For Over 20 Years
Hi To All Our Owners and Social Members,
Saturday presents the last day of the Caulfield Racing week, with the highlight obviously being the Time-Honoured Caulfield Cup. We have a full field of 18 with 4 Emergencies over the Handicap journey of 2400 mtrs. What a day it will be, with great racing but sadly without a crowd.
Its also hard to believe that two years has gone by sinceour own SIZZLEME ran third to VERRY ELLEEGANT in the Group 3 Ethereal Stakes on the same day in a lead up race to the Oaks.
Interestingly, Verry Elleegant is now one of the favourites for the Caulfield Cup on Saturday.
In Sydney The Everest for the best sprinters in the land over 1200 takes place at Randwick and The Kosziuszko in which until about 2 weeks ago,our JAWWAAL was a possible runner in the event. Unfortunately, Jawwaal suffered a slight injury in the stables at home and missed out on the big chance to race in the Million dollar plus event. Fortunately, it looks like the chestnut is going to be o.k. and has returned to work this week.
Our Trainer of Jawwaal, Mitch Beer does however have a runner in the event. Redouble has drawn Barrier 1 of 14 over the 1200 and Tommy Berry will ride. Good luck to Mitch and owners, what a thrill for them all along with the Stable staff who work so hard. This gelding by Redoubts Choice is not without a place chance at good odds. Go Redouble.
Its a great thrill for Mitch to have a runner at this level. We have been supporting Mitch, since well before he took out his license just a few years. Clanbrooke currently have 15 horses with Mitch and we have enjoyed sharing his enthusiasm, passion and journey since starting at Mornington to now being the leading trainer at Albury, winners in Sydney this year ( and a second placing for Jawwaal at Flemington ) and now a runner in the Kosziuszko. He has come a long way in a short space of time. I refer you to an article on Mitch & Redouble at the end of this newsletter.
RACING THIS WEEK
FRIDAY
We start with a very busy Friday at both Moe and Pakenham with 4 Runners. Think Winning, River Of Gold , Mayan and Ring Of Honour. The Track has come up as a Soft 7.
First up at Moe ( Moe Cup Day ), we have THINK WINNING as an acceptor and the 4 Year Old has drawn nicely in Barrier 4 of 13 runners with Ethan Brown on board. This horse went out as favourite at his first life time start but was very Colty and a bit wayward in his action in the straight. It was on a Heavy Track which he wasn't overly comfortable on but we do need to see real improvement today before we decide what's next. The Blinkers go on and if Think Winning runs to his ability, he will be in the finish.
RIVER OF GOLD will race second up over the 1600 and has drawn 9 of 11 ( with Scratchings ) and Pat Carey's Apprentice Celine Gaudray on board. Celine will claim 4 Kgs. River will need the run and we look forward to stepping her up further in distance at her next start. We want to see her running through the line at the completion of today's race.
MAYAN will also race second up in Race 9 where he has drawn 12 of 12. Mayan raced at Mornington first up and ran a nice race. He will strip fitter for the run and Ethan Brown is on board. Despite the bad barrier, Mayan will be a good Each Way Chance for the Elite Syndicate who race him. With luck from the barrier, this horse should run very well.
On Friday night, the elite Syndicate will have their second runner for the day at Pakenham where RING OF HONOUR is engaged in Race 7 at 8.15 in the BM70. Ring Of Honour should be competitive and we rate him an Each Way chance. He has drawn 9 of 12 ( with scratchings ) on a track that is Rated a Soft 6. His last run at Bendigo was a very good one and he is in good form with a win first up at Sandown.
SATURDAY
NEWZEEL DEAL will present at Bendigo in a very handy Maiden over 1600 mtrs where " The Deal " has drawn Barrier 7 of 12 in race 4 at 2.18. Cranbourne based jockey, Ben Allan will take the ride.
This is quite a handy maiden but if the pace is on and our horse settles a little closer than he did last start, he could be in the money.
We also race at Wagga where the Track is currently Rated a Good 4 and have 2 Runners, Sydney Blue and Francoli. Get ready for Great Barrier Draws again.
FRANCOLI will race in the 3.50 event over 1300 and has drawn Barrier 12 of 13. Accomplished jockey Nick Heywood will be on board.
SYDNEY BLUE our new lovely grey horse will race first up for the new owners in Race 7 at 5.19 and Yes you guessed it, he has drawn Barrier 16 of 16. Josh Richards, will take the ride.
Mitch Beer may assess both races and decide whether we run or take our chances. Owners will be advised through our MiStable Service.
Please note that Kobe Princess is nominated Wodonga on Tuesday and accpetacnes will be out later today.
Watch out for Noms for Races, Trials and Jump Outs coming through over the next week or 14 days. These are possibles only and owners will be best kept up to date through our MIStable service.
These could include,Perfect Illusion, Rebellious Angel, Reveal All, Power Me Up, Think He Mei, Kobe Princess and Mrs. Whitten.
MEBOURNE RACING CLUB AND MORNINGTON MEMBERS.....HAVE YOU VOTED YET ?
Just reminding everyone there is less than 2 weeks to go for Voting for the Mornington Advisory Group committee at which myself ( along with Alison Saville and Jill Monk ) are standing for re-election. We urge you to have your say by voting and we hope that you will select us as your candidates. Just go to the MRC Website and to the Members Portal to cast your vote.
MRC MEMBERS...WHAT HORSE DID YOU DRAW IN THE CUP ? A PRIZE FOR THE WINNER
The MRC has made a nice gesture by putting all members names on the Saddlecloths of all 18 horses in the Caulfield Cup.
I drew Number 1 Anthony Van Dyck ridden by Hugh Bowman.
What horse did you draw....let us know at chris@clanbrooke.com and we will know who is among the winners in next weeks newsletter.
Send your name in and go into the draw to win a " Surprise Pack " from Clanbrooke Racing. If there are Multiple Owners, the winner will be drawn and announced in next weeks newsletter.
PLEASE SEND YOUR MRC HORSE IN BY 12.00 MIDDAY SATURDAY. GOOD LUCK.... a nice bit of fun to have in MRC ISO.
Have a Great Racing Week Everyone
Chris Dickinson
ATTENTION TO ALL OUR CLANBROOKE OWNERS WHO ARE MEMBERS OF THE MRC OR MORNINGTON RACING CLUB
Elections have opened this week for Three positions on both the MRC and the Mornington Advisory Group ( a Sub Committee of the MRC ). You may or may not have known but our own Chris Dickinson is a member of the Mornington Advisory Group known as MAG and has nominated for Re Election.
As Managing Director of Clanbrooke Racing I officially wish to endorse Chris to be re-elected and encourage you all to vote for him...............

A NOTE FROM CHRIS TO OUR CLANBROOKE FAMILY OF MRC AND MORNINGTON RACING CLUB MEMBERS
Many of you who are members of the Melbourne Racing Club may already know that Elections are taking place commencing as of this week for both the MRC and the MRC Sub Committee ( The Mornington Advisory Group ). I am currently on the Sub Committee of the Mornington Advisory Group and standing for Re Election. I would like to encourage all MRC and Mornington Members out there on our Clanbrooke Data Base to consider voting for myself.
I have the interests of Mornington first and foremost and feel that I can be a valuable member of the group and to the MRC Committee in both the support and advice of what is best Mornington, its Club, Facilities, Trainers and Racing Community. The Mornington Racing Club is a great Club with a long and successful history. I feel that as a MAG Member, I can offer sound advice and good service to the club under the umbrella of the MRC. I have a background in leadership, racing, breeding , ownership and administration. I look forward with enthusiasm to be able to serve the Mornington Advisory Group and its racing community.
OFFICIAL SUMMARY STATEMENT
Chris Dickinson
Current Employment
GM Sponsors Partners in Education. (Director)
Self-Storage Victoria Partnership
Clanbrooke Racing
Candidate Statement
I have been a member of the MRC for over 20 years and previously a Mornington member. I am a Retired School Principal.
I am a Director of the Keysborough Golf Club & Chairperson of the Waterways Residents Association.
I have been on the MAG for just over 2 years.
I was born into racing as my family were horse breeders who owned an agistment property in Northern Victoria. At 26, I formed Sharing Winners Pty Ltd, one of the first licensed syndicators at the time.
I have formed relationships with owners, breeders, members, and trainers within racing and believe that I support the Mornington Team and MRC. I am a concerned and active racing enthusiast and have a passion for the continued success of the Mornington Racing Club, its members and community.
WATCH THIS SPACE FOR A NEW PARTNER COMING TO CLANBROOKE!
To All Our Clanbrooke Owners.
Here is one for your Memorabilia Archives.
Enjoy this 2.5 min Video
It has a " Selection " of our Winners over the 2019 /2020 Racing Season. Some of the horses won Multiple Races but this is a nice Overview of our winners from all around Australia, including Morphettville, the Gold Coast, Sunshine Coast , N.S.W and Victoria.
Congratulations to all our 2019/2020 Owners .
We already have 2 Winners early in the new season and we look forward to building a new library to present to you in 12 months' time. We hope your horse/s are a part of it.
Best Wishes
Brooke,Dean and Chris
CLANBROOKE RACING 2019-20
A Pinch of Luck salutes first-up!


Courtesy Herald Sun 17.07.20

Congratulations to Mistress Molly owners

Thanks to the patient training effort from Cindy Alderson, Mistress Molly saluted for the second time in her career last Friday at Pakenham. A well timed ride by Craig Newitt, Molly's record now stands at 12 runs for two wins and six further placings.
Congratulations everyone!.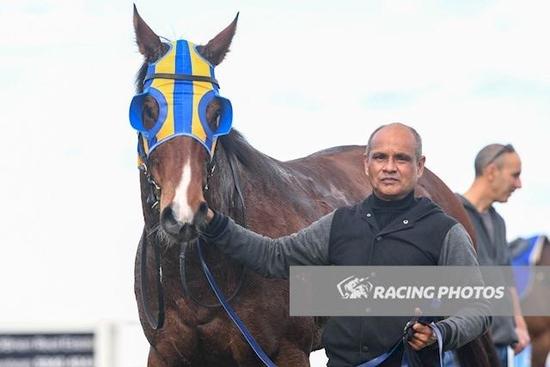 Mr Trump heads home for retirement
Unfortunately a few weeks ago our own Mr Trump broke down in a race and was severely injured so much so that he will never race again. The future for the grey boy was not looking good.
However, we congratulate Mitch Beer and his wonderful team along with Trumpy's original New Zealand owner who have made an arrangement for his future. As a result of good management Trumpy will be nursed back to a future that will see him re homed to the pastures of New Zealand.


Beer sends Hanger on a Vic road trip

Living on the NSW side of the Murray River has curtailed the racing opportunities in Victoria for Albury trainer Mitch Beer.
Beer cannot cross the border himself and must get help from one of his Victorian counterparts.
He will rely on Caulfield-based trainer Brendan McCarthy when he sends Hanger to race at the track on Saturday in the Group 3 Victoria Handicap (1400m).
"If they have to go, they've really got to warrant going, but Hanger is set to go on Saturday," Beer said.
"It's not like we can throw them on the float Saturday morning and roll the dice. We have to do a bit of planning.
"Fortunately being so close to the Hume Highway we have all the transport companies pretty much come through every night.
"So we can put him on one and he can go down to a trainer at Caulfield on Thursday, race on Saturday and then come home."
Beer said he was learning more each week about Hanger who has had only three starts for the stable since coming from New Zealand, including a win in the Echuca Cup (1400m) two starts ago.
"He's a pretty talented horse I think and I want to take advantage of what he's rated while we can," Beer said.
"It wasn't the biggest field in the Echuca Cup but he put them away quite well and then last time he went to Rosehill and performed well.
"He's working towards something nice and getting in on the minimum on Saturday will be ideal."
Beer said if Hanger draws badly and the race is too tough, he had a back-up plan.
He said Hanger could join other members of his team for a 5-1/2 hour trip to Moruya for the Cup on Sunday.
"It's what we have to do at the moment, but it's better than staring at 40 empty boxes," Beer said.
Hanger won four races in New Zealand for Kingsclere Stables and was stakes placed on three occasions before transferring to Beer.
(courtesy Racing.com)
River of Gold makes it 2 wins in 3 days for the Clanbrooke - Mitch Beer team!
Congratulations to all the patient owners of River Of Gold who won her third race today at Wagga from just 13 starts. We bought this mare at the Melbourne Premier Sale and are thrilled to be racing this horse with the Breeder Lauriston Park (hence she races in their colours). She is very nicely bred, being out of Gold Copy, but she has taken a little time to reach her potential.
Have a look at the Video below to witness a copybook ride from Kayla Nisbet ( who rode her to a win at Canberra ) - and what a great training effort from Mitch Beer to have her second up and running through the line over 2000 today. A real Credit to Mitch.
A wonderful ride and a great reward for a hard working stable team.

https://racing.racingnsw.com.au/FreeFields/Results.aspx?Key=2020Mar10,NSW,Wagga




This completed a Clanbrooke and Mitch Beer Double for the week, after HANGER ( pictured ) won the Echuca Cup on Sunday.
From his early days he has trained a number of winners for us, including a memorable Running Double at Kyneton just 3 years ago. We look forward to more.
It also rounded a terrific week that also included 2 city placegetters. Kootara was beaten 0.7L into third at Flemington whilst Mawaany Machine was runner-up at Eagle Farm and certainly looks to have his foot on the till.


Hanger Wins Echuca Cup!

It was only moments after Mitch Beer had arrived at Echuca for the Cup Day program that he thought his trip would be a wasted one.
The Albury trainer arrived with New Zealand recruit Hanger, a horse he thought could win the $100,000 Moama Bowling Club Echuca Cup, but one he knew was at his best on tracks with the sting out.
Beer was pleasantly surprised to see the five-year-old drive late to score victory in the 1400-metre event.
"We walked in and we got a text message that the track had been upgraded to a (Good) 4 and I said to (sister and racing manager) Ash, 'we should scratch this horse'," he said with a laugh.
"I just want to look after him. It's so hard to get good-quality horses and we treat him like a Group horse."
The son of O'Reilly turned in a performance that backed up the trainer's belief to score a fighting win, the fifth of his 22-start career.
Hanger, who started $12, scored by three-quarters-of-a-length from Easy Beast ($7) with $2.60 favourite Ashlor, who was chasing a second country feature in as many weeks, close up in third position.
"He's a horse that does hit a flat spot every run he has, but he's a horse that loves a wet track as well," winning jockey Teo Nugent said.
"As the track was drying out through the day, that was my only concern, but I can't wait to see him out to a mile. There's a lot of potential there."
C/- Racing.com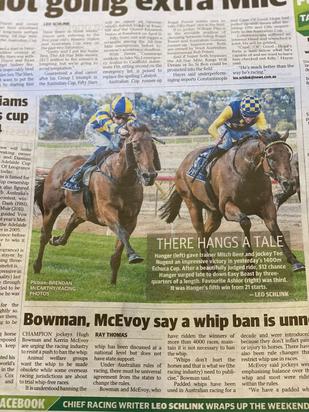 Upcoming Runners
Recent Winners
| Horse | Date | Race | Margin | Jockey |
| --- | --- | --- | --- | --- |
| Think He Mei | Oct 24, 2020 | 1 - Yarra Glen | 0.30 | Patrick Moloney |
| A Pinch Of Luck | Sep 24, 2020 | 8 - Sale | 0.10 | Ethan Brown |
| Jawwaal | Aug 27, 2020 | 6 - Wagga | 2.80 | Josh Richards |
| Jawwaal | Aug 18, 2020 | 7 - Albury | 11.30 | Josh Richards |
| Mistress Molly | Aug 18, 2020 | 7 - Racing.Com Park Syn | 0.80 | C Newitt |
| Ruler By Choice | Aug 08, 2020 | 5 - Murray Bdge | 0.80 | B Vorster |
| Ring Of Honour | Aug 02, 2020 | 8 - Sandown-Lakeside | 0.10 | D W Stackhouse |
| Previso | Jul 17, 2020 | 3 - Dubbo | 0.30 | J Mallyon |
| A Pinch Of Luck | Jul 16, 2020 | 1 - BALLARAT SYNTHETIC | 6.00 | Lachlan Neindorf |
| Mapping | Jun 27, 2020 | 4 - Casterton | 4.50 | Ronan Short |
| Mistress Molly | Jun 19, 2020 | 6 - Racing.Com Park Syn | 1.00 | C Newitt |
| Mawaany Machine | May 15, 2020 | 2 - Sunshine Coast | 0.50 | Justin Huxtable |
| Seventh Seal | Apr 16, 2020 | 7 - Goulburn | 1.50 | A Layt |
| Mawaany Machine | Apr 09, 2020 | 4 - Gold Coast | 0.50 | A Mallyon |
| Seventh Seal | Apr 03, 2020 | 4 - Canberra | 1.80 | A Layt |
Latest Results
| Horse | Finished | Date | Race | Margin | Jockey |
| --- | --- | --- | --- | --- | --- |
| Think He Mei | 1 | Oct 24, 2020 | 1 - Yarra Glen | 0.30 | Patrick Moloney |
| Power Me Up | 2 | Oct 24, 2020 | 5 - Albury | 2.50 | Josh Richards |
| Perfect Illusion | 2 | Oct 23, 2020 | 7 - Benalla | 2.30 | Teodore Nugent |
| Sydney Blue | 7 | Oct 17, 2020 | 7 - Wagga | 13.20 | Josh Richards |
| Francoli | 4 | Oct 17, 2020 | 5 - Wagga | 3.30 | Nick Heywood |
| Newzeel Deal | 2 | Oct 17, 2020 | 4 - Bendigo | 0.30 | Ben Allen |
| River Of Gold | 7 | Oct 16, 2020 | 5 - Moe | 6.10 | Celine Gaudray |
| Mayan | 9 | Oct 16, 2020 | 9 - Moe | 11.30 | Ethan Brown |
| Ring Of Honour | 7 | Oct 16, 2020 | 7 - Racing.Com Park | 5.20 | J Mott |
| Think Winning | 7 | Oct 16, 2020 | 2 - Moe | 9.60 | Ethan Brown |
| Perfect Illusion | 8 | Oct 10, 2020 | 1 - Royal Randwick | 5.30 | Thomas Stockdale |
| Seventh Seal | 10 | Oct 10, 2020 | 6 - Albury | 10.00 | Ellen Hennessy |
| Francoli | 10 | Oct 10, 2020 | 5 - Albury | 13.60 | Ms K Nisbet |
| Power Me Up | 2 | Oct 10, 2020 | 5 - Albury | 2.30 | Josh Richards |
| Think He Mei | 6 | Oct 09, 2020 | 3 - Cranbourne | 5.90 | Celine Gaudray |