Athletic Black Colt by the World's BEST sire of winners - MORE THAN READY

2.5% shares $2792 inclusive to 31st October 2019
(includes breaking and agistment to 31st October, Inglis Bonus ... Read More

5% DISSIDENT shares only $2780!

DISSIDENT progeny have been in high demand since his Freshman year, selling to $800K as Yearlings. Selling to $400K at ... Read More

Thanks for another great Queen's B'day at Mornington!

Thanks to all owners who braved the cold to join us in `The Lodge' at Mornington for another terrific Queen's Birthday ... Read More
Vale Brian Cox - A real Horseman

Last week Clanbrooke lost one of our closest friends. I grew up knowing Brian and his father Olle from Pony Club days and I always thought that Olle was the iconic Man from Snowy River - and if that was so, then Brian was the real life version of Jim Craig. His training statistics are unparalleled in the North-East and his forays to Melbourne were immortalised in the media because 'he's not bringing them down the highway for the float ride'. Ironically it was in Melbourne Cup week of 2002 that he trained 3 individual winners to be the leading trainer for the Carnival.

But Brian was more than just a horse trainer. He was a friend to many and a mentor to a litany of jockeys, fellow trainers and stable staff. He could be gruff at times because he didn't accept mediocrity but it was always short-lived and he then would turn educationalist and explain how the little things could be improved. In the early days of Clanbrooke, Brian became one of our biggest supporters. His words of encouragement when things were tough remain as a testament to both his horsemanship and his friendship. It was always a pleasure to sit down with Brian and Janet and just talk about anything and everything. The racing world will be poorer for Brian's passing and we at Clanbrooke mourn him as much as anyone.


Humour The Best Tonic According To Beer
By Ray Hickson
Always look on the bright side of life - it's straight from the Monty Python songbook and goes a small way to summing up the breath of fresh air that is Albury based trainer Mitchell Beer.
Trainer Mitchell Beer on strapping duty. (Pic: Bradley Photos).

When he made a permanent move from Mornington to the border town in NSW with 20 horses in September last year it was seen by others as a huge risk, that he was 'absolutely mad' for doing it, and someone even told him he'd probably starve.
Twelve months on, and with his horse numbers almost tripled, it seems Beer is having the last laugh - mostly at his own expense of course.
His Twitter feed, filled with biting satire, witty observations and just making light of serious things like winning and losing in racing and in life, is testament to that.
And he's lapping up everything that comes with being a country trainer.
"I'm not afraid to be an average 31-year-old guy, I just happen to be an average 31-year-old guy who trains racehorses,'' he says.
"I never wanted to let becoming a trainer change me in any way and how I go about life.
"You don't have to act serious and play that whole game to the public to justify that you're dedicated and are doing a good job.
"I couldn't give any more time or effort to my stable but I don't live in the fear that's not perceived.''
Whether you're a trainer, jockey, stablehand, strapper or any other participant in what many refer to as 'the great game' if you're a member of the racing industry it's a way of life.
So why make it harder than it already is? That's the Beer philosophy anyway.
"We get beaten more than we win in this caper and having the attitude that losing is okay, and not putting a huge amount of pressure on myself, really translates to the way I train and run my business,'' he said.
"This industry can be very consuming. It's a lifestyle, it's not just a job where you can clock off on Friday afternoon and come back.
"It's really important not to let the job and the racing game consume you as a person.
"I worked for a lot of trainers who have trained for a long time and have felt the brunt of that. It's a demanding job.
"It's taken a toll on them from spending 30 years working in the racing industry. I made a promise to myself that I didn't want to become that.''
Mitchell Beer with UK import Perfect Illusion, aka Gavin. (Pic: @mitchellbeer)

The short version of the Mitchell Beer back story is, despite his best efforts to step outside the racing bubble, he was always going to play some role in racing.
His father Les was a prominent jockey around country Victoria and his sister Ashlee is also an ex-jockey.
Even though it sounds like one of Beer's gags, this isn't a joke - he wanted to be a golf coach, and spent a year as a pro shop apprentice, and he wanted to fight fires.
"One day I accepted that racing was my fate,'' he said.
"I thought if I'm going to do it I'm not going to be mucking out boxes for the rest of my life and I'll have a real go at being a trainer.
"Fast forward and I'm waking up to 50 horses in the back yard in Albury.''
When he moved from Mornington, which for someone who grew up in Melbourne was considered to be 'the bush', across the border Beer knew he was making a shrewd business decision.
He'd worked with many of the big names in the industry and transitioned to training in his own right four years ago through a partnership with Max Hinton.
What he didn't know was how much it would open his eyes.
Not only to a more relaxed setting to train his horses but to a racing community that embraced him the more he embraced it.
"I was unsure about how I'd go living here. I think this place has been as good for me as it has the business,'' he said.
"I get out of bed at 5.30am. We're not rushed, we can work at a slower pace and we can spend more time with the horses.
"I have a life here and my staff have a life.
"I've been to every racetrack in Victoria 100 times but in the past year I've been to racetracks I didn't know existed and country towns I didn't know existed let alone hold a meeting.
"It's given me a whole new zest for racing and the country Cups circuit is phenomenal. Country racing is so strong in NSW, the prizemoney is one thing but the support from the towns in the area is phenomenal.''


31.08.2019
What a terrific day it was!.
With a winner for Clanbrooke in the first at Morphetville on the day (Regardsmaree), we were lucky enough to be wined and dined in the Committee Room before presenting to the trophy for the Clanbrooke Racing Handicap to one of the largest group of owners we have ever presented to.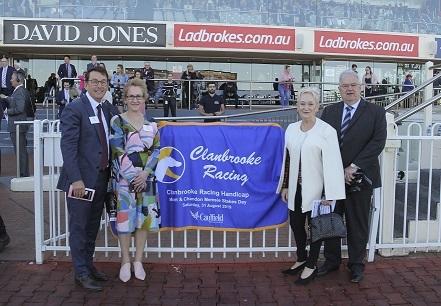 27.07.2019
Nice shot of our Steeplechaser, Mapping, negotiating the fences at Ballarat last Sunday.




9.8.2019
Two Winners in Two Days!
Congratulations to all connections in Regardsmaree. He saluted yesterday at Warrnambool at only his second career start after a nice even run on debut at Sandown when he was beaten less than four lengths. A nice, patient but soft ride by stable rider Josh Cartright yesterday who has ridden the horse a lot in work.

Well done and thank you to Henry Dwyer and his dedicated staff on a job well done.


6.8.2019 We're on the Board for Season 2019/20

Congratulations to connections of Swift Serenity who saluted at only her second start at Wodonga for Clanbrooke and Lindsay Park. Swift Serenity's win marks the first of the new Racing Season for Clanbrooke. With a stable full of promising youngsters we are looking forward to another successful Season.


A new Racing Season


On Horses' birthday it is time to reflect on the Season that was and what a terrific year it has been for the Clanbrooke stable, rounding out the year with 29 wins on the board - 3 better than our best ever year!.

Sizzleme certainly carried the torch for the stable throughout the season, notching black type for the second time in her career at Caulfield in the G3 Etheral S. in the Spring before running a very credible 4th and 6th respectively in the G2 Wakeful and G1 VRC Oaks.

All of our trainers were represented on the winners list this season, including two of our newer trainers. Tony McEvoy guided Mayan to a first start win at Morphetville and two weeks later achieved Stakes success when he was runner-up in the Listed St Albans S.

Chris Waller also trained International import Mawanny Machine to city victory at only his third start in Australia. It is our first venture with long-time associates Australian Bloodstock and looks like it will be a very exciting ride through the Spring.

Our final winner for the year came last Sunday when Mr Trump, the NZ import having his third start for the Mitch Beer/Clanbrooke stable, saluted on the Sapphire Coast. It was Mitch's expertise in procuring `tried horses' this year that really shone. Anna Baabella was a tried horse who won her first start for Mitch and Clanbrooke much to the delight of owners who had travelled up to Albury for the Cup Carnival and Clanbrooke marquee. Mitch took out the local premiership at Albury by 12 points this (competing for only 10 of the 12 months), proving that his decision to move has certainly been a positive one.

Our functions have, once again, been memorable - our Queen's Birthday race day at Mornington is a regular on our calendar now and never disappoints. We will, of course, host this event again in 2020. Sandown Classic day in the Committee Room last was a hit with our owners and we look forward to doing it all over again this November.

Finally, thanks to all our owners and supporters for a fantastic 2018/19 racing Season. We look forward to sharing some more fun times and memories with you all over the 2019/20 Season.


Minervini on the Move

One of our oldest and dearest trainers, Mark Minervini has decided on a move from his home town of Adelaide to greener pastures. I have added his Statement below which is self-explanatory and highlights the problems in South Australia. Mark joins an ever growing list of trainers abandoning their home state in an effort to make a dollar out of training. His Statement reads:

Michelle and I have made the life changing decision to move our business to the beautiful coastal town of Newcastle in NSW.
I spent three days there last month as guest of the Newcastle Jockey Club and was blown away by their hospitality, the racecourse facilities and the city itself.
The club has granted us 12 on course stables and I am now waiting for the Racing NSW stewards approval of my trainer's license application for the upcoming season beginning August 1.
THE REASONS FOR THIS DECISION
Sadly, it is well documented that the racing industry in South Australia continues to decline and is in real turmoil - poor management decisions, ageing facilities, lack of government support and low prizemoney levels are all major factors in us deciding that we need to relocate.
Conversely racing in New South Wales is currently booming - it has innovative and strong leadership, huge infrastructure investment, record political support and prizemoney levels.
After considering moves to Victoria, Queensland, Western Australia and even Tasmania, New South Wales and in particular Newcastle stood out as the best option for us, you our clients and our horses.

Good luck Mark.


Oh My Mawanny

It has only taken 3 starts in Australia for our imported galloper Mawanny Machine to salute in the city. The former Irish horse excelled in the soft going on Saturday at Sandown and despite travelling 4 wide out of the straight the first time, quickly took up the lead and settled into a beautiful rythym. Craig Newett said after the race that the horse virtually dictated to him how to run the race and the moment he hit the lead, he just put his head on his chest and rolled along. His fighting spirit in the straight was fantastic as he was headed at about the 25om but he just would not give in. According to Froggy, the horse has plenty of upside and will continue to improve as we look the Spring in the eye. Exciting times indeed for those owners.






Horses Currently Available
2 year old Brown Filly
Sire: Dissident Dam: Pure Intentions
Athletic Filly by 5 x Group 1 Winner DISSIDENT

2015 Horse of The Year and 2015 Champion sprinter DISSIDENT is a five time Group 1 winning son of the 2008 Golden Slipper winner, Champion 2YO & sadly recently deceased SEBRING. Out of the ANABAA mar...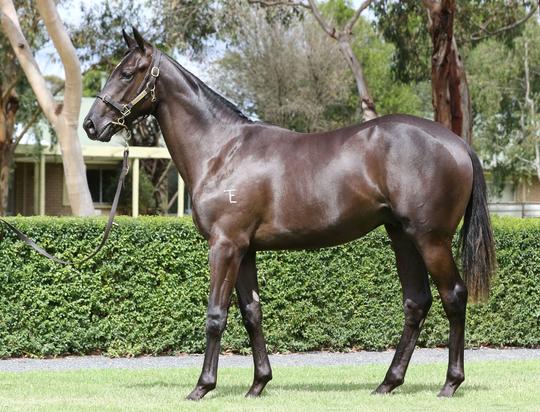 2 year old Black Colt
Sire: More Than Ready Dam: Ocean Storm
Athletic Black Colt out of a half-sister to a Group 1 winner
by the World's BEST sire of winners -
MORE THAN READY
Siring over 1800 winners to date including 198 Stakes Winners, MORE THAN READY's closest rival is the late, great DANEHILL,...
Upcoming Runners
Recent Winners
| Horse | Date | Race | Margin | Jockey |
| --- | --- | --- | --- | --- |
| Ruler By Choice | Nov 13, 2019 | 1 - Murray Bdge | 1.80 | B Vorster |
| Jawwaal | Oct 12, 2019 | 5 - Albury | 0.50 | Ms K Nisbet |
| Regardsmaree | Aug 31, 2019 | 1 - Morphettville Parks | 0.20 | Ms G Cartwright |
| Regardsmaree | Aug 08, 2019 | 1 - Warrnambool | 4.30 | Josh Cartwright |
| Swift Serenity | Aug 06, 2019 | 1 - Wodonga | 0.20 | Lachlan King |
| Mr Trump | Jul 28, 2019 | 4 - Sapphire Coast | 0.20 | J Mallyon |
| Tyson Returns | Jul 21, 2019 | 7 - Wangaratta | 1.80 | C A Robertson |
| Zaberfeldie | Jun 17, 2019 | 1 - Albury | 0.20 | J Mallyon |
| Mawaany Machine | Jun 15, 2019 | 5 - Sandown-Lakeside | 0.10 | C Newitt |
| Hanger | Jun 15, 2019 | 3 - Ruakaka | 0.10 | R T Elliot |
| Toorak Cowboy | Jun 04, 2019 | 7 - Wagga | 0.20 | Ms N Beriman |
| River Of Gold | Apr 05, 2019 | 5 - Canberra | 0.50 | Ms K Nisbet |
| Mistress Molly | Apr 04, 2019 | 3 - Racing.Com Park | 1.00 | Jamie Kah |
| Nicconi Poni | Apr 01, 2019 | 5 - Wagga | 2.50 | Ms N Beriman |
| Anna Baabella | Mar 21, 2019 | 3 - Albury | 0.50 | Ms N Beriman |
Latest Results
| Horse | Finished | Date | Race | Margin | Jockey |
| --- | --- | --- | --- | --- | --- |
| Anna Baabella | 6 | Nov 17, 2019 | 6 - Canberra | 5.80 | Brock Ryan |
| Lirismo | 7 | Nov 15, 2019 | 2 - Gundagai | 5.30 | J Mallyon |
| Perfect Illusion | 10 | Nov 15, 2019 | 7 - Gundagai | 10.40 | J Mallyon |
| Toorak Cowboy | 8 | Nov 15, 2019 | 7 - Gundagai | 5.70 | Brodie Loy |
| Mistress Molly | 3 | Nov 14, 2019 | 5 - Racing.Com Park | 3.10 | Clayton Douglas |
| De Little Sister | 5 | Nov 14, 2019 | 6 - Seymour | 2.60 | Patrick Moloney |
| Ruler By Choice | 1 | Nov 13, 2019 | 1 - Murray Bdge | 1.80 | B Vorster |
| River Of Gold | 5 | Nov 09, 2019 | 3 - Goulburn | 10.40 | J Mallyon |
| Chuparosa | 6 | Nov 09, 2019 | 5 - Goulburn | 5.30 | J Mallyon |
| Jawwaal | 2 | Nov 08, 2019 | 2 - Orange | 1.00 | Ms K Nisbet |
| Nicconi Poni | 6 | Nov 05, 2019 | 9 - Randwick-Kensington | 2.40 | Teodore Nugent |
| Beyond Reproach | 8 | Nov 05, 2019 | 1 - Cranbourne | 9.20 | A Tomita |
| Lord Cedrick | 10 | Nov 04, 2019 | 2 - Corowa | 7.00 | Ms K Nisbet |
| De Little Sister | 6 | Nov 03, 2019 | 9 - Mornington | 4.60 | Beau Mertens |
| Anna Baabella | 9 | Nov 01, 2019 | 7 - Wagga | 8.80 | J Mallyon |